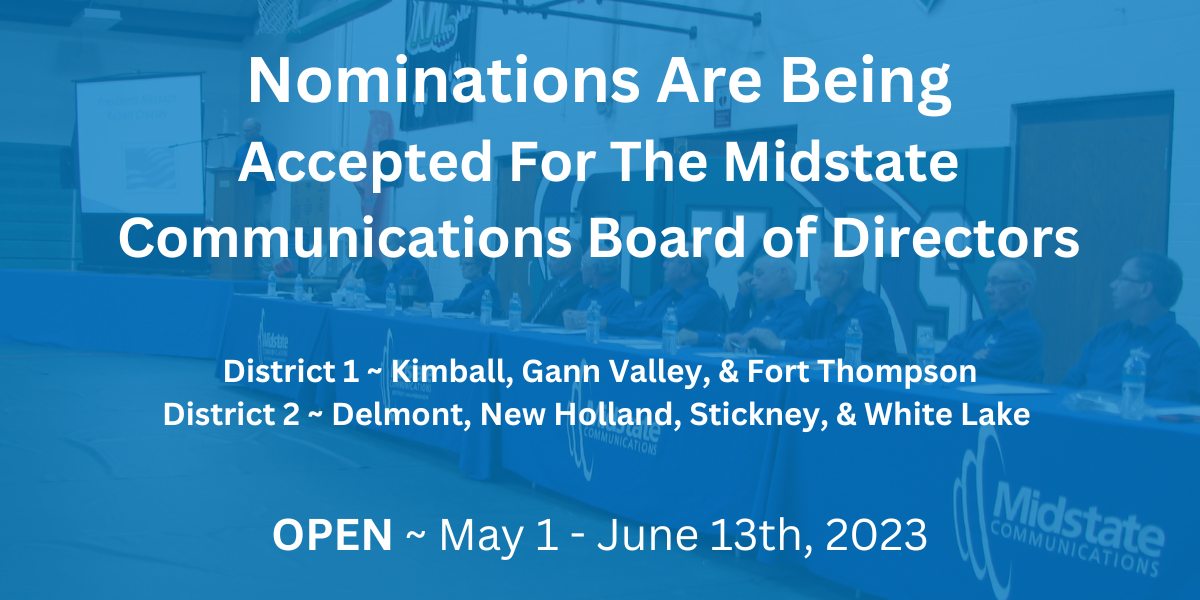 Board of Director Nominations Open
– By #Midstate
Cooperative members will elect two members for three-year terms to the Midstate Board of Directors from District 1 and District 2.
Midstate Communications has 8 Board of Directors that represent 4 various districts in the Midstate Communications serving area. Directors elected to serve on the Midstate Communications board will serve a three-year term. Board members represent their district by attending monthly board meetings, attending community events, and supporting Midstate Communications in the telecommunications space.

To qualify for nomination, you must live in and be a member in good standing with the Cooperative in either District 1 or 2. A nomination form can be requested from the Midstate Communications offices in Kimball or Chamberlain after May 1st.

The nominating petition must have a minimum of 15 signatures from members who reside within the specified District. Members are the subscribers who currently have telephone or internet service with Midstate Communications, Inc.

Each member will be allowed to sign only one (1) petition.

Joint membership constitues only one (1) membership. Therefore, husband and wife are allowed only one (1) signature between them.

After obtaining requisite number of member signatures, file this Petition at the Midstate Communications office in Kimball, SD or mail it to PO Box 48 Kimball SD 57355 by first class mail.

The petition must be received by Midstate Communications no less than 30 days prior to the District Director Election Meeting. This date is by 5:00 PM on June 13th, 2023.

Ballots will be mailed to districts with two or more members who have successfully filed a petition. For members who wish to cast their ballot in person, an election meeting will be held on July 13th, 2023 from 9 to 11 am in the Kimball office.

If you have questions about taking out a nomination form, please call us at 605-778-6221.

District 1



Representing: Kimball, Gann Valley, & Fort Thompson
Three-year term: Incumbent - Dave Lehr

District 2
Representing: Delmont, New Holland, Stickney, & White Lake
Three-year term:
Incumbent - Bob Holleman
---
Last Modified: