The Messenger - October 2021
– By #Midstate


Slow internet can drive anyone batty. It's no fun to watch that spinning wheel go around while a video is buffering or to experience frustrating Zoom lags or freezes.The solution is to sign up for one of our super-fast internet plans. We offer speeds up to 1 Gig, which will easily accommodate simultaneous use by multiple people and devices. Plus, we back all of our plans with local service and support.

---
October is
Cyber Security Month!
Tips for a more secure home network
Many families have a variety of internet-connected devices — including computers, laptops, gaming systems, TVs, tablets, and smartphones — that all access a home Wi-Fi network. To protect your network and your family from online threats, the National Cyber Security Alliance offers these tips:
Keep a clean machine.
Having the latest security software, web browser, and operating system are the best defenses against viruses, malware, and other online threats.
Automate software updates.
Many software programs will automatically connect and update to defend against known risks. Turn on automatic updates if that's an avail-able option.
Protect all devices that connect to the internet.
This includes computers, smart-phones, gaming systems, and other web-enabled devices. They all need protection from viruses and malware.
Plug and scan. USBs and other external devices can also be infected by viruses and malware. Use your security software to scan them.
Use a firewall.
A firewall is like a guard, watching for attempts to access your system and blocking communications with sources you don't permit. Your operating system and/or security software likely comes with a pre-installed firewall, but make sure you turn on these features.
Secure your wireless router.
Change the name of your router from the default ID (called a "service set identifier" or "extended service set identifier") to a name that is unique to you and won't be easily guessed by others. Also change the pre-set password on your router to a new password that's long and strong, using a mix of numbers, letters, and symbols.
Back it up.
Protect your valuable work, music, photos, and other digital information by making an electronic copy and storing it safely.
Midstate Communications can help you set up a secure home Wi-Fi network. Call 605.778.6221.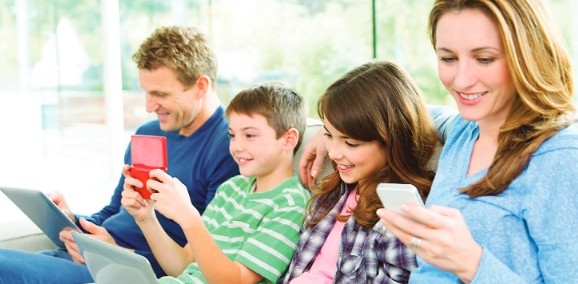 Please join us for our in-person annual meeting on October 7th at the Kimball High School Gymnasium!
5:30–6:30 pm: Customer Appreciation Barbeque Meal
6:30 pm: Business Meeting
Followed by Entertainment and Door Prizes
---
Office Closure
Midstate Communications offices will be closed on Monday, October 11th in observance of Native American Day.
---
Important Dates to Remember
Please mark the following dates regarding our billing schedule on your calendar. Bills are mailed the last business day of each month and payment is due on the 20th of the month. Paying on time saves frustrating calls and unwanted late fees.

Last Business Day of Each Month
–Bills mailed out from Midstate's office
5th of Each Month
– Disconnect of all accounts with a 30 day balance
20th of Each Month
– Bills are due in either Midstate office by 12:00 p.m.
20th of Each Month
– Overdue notices mailed out and late fees will be applied to all delinquent accounts.
All Midstate bills are due upon receipt. Any bills that have not been received by the 5th of the following month will be disconnected. To be reconnected, the bill must be paid in full and will be subject to a down payment and appropriate reconnect fees.
---
We're Celebrating Co-op Month
Each October, cooperatives all across America, including Midstate Communications, celebrate the role, accomplishments, and contributions of our nation's co-ops.
Co-ops uphold the internationally accepted values of honesty, openness, social responsibility, and caring for others. Through the member-owned and democratic process, cooperatives straightforwardly maintain these values and continue to offer goods and services that consumers feel "right" about. Co-ops don't have to answer to faraway shareholders; they focus on meeting their local members' needs.
Each time you pay for Midstate Communications services, you're making an investment by providing capital in a company that you and your neighbors actually own. Put simply — our success is your success.
You also benefit from our role as an active community citizen. In addition to the capital credits paid to our members, Midstate Communciations donates generously to many community organizations and programs.
Thank you for being a member-owner of Midstate Communications!
---
Last Modified: