The Messenger - September 2021
– By #Midstate


Thursday, October 7th at the Kimball High School Gymnasium
We are excited to bring our annual meeting back to an in-person event in 2021. Please make plans to join us!
5:30 – 6:30 pm: Customer Appreciation Barbeque Meal
6:30 pm: Business Meeting Led by Our New CEO/General Manager, Chad Mutziger
Entertainment From Jerry Frasier
We are thrilled to bring the laughter back to our annual meeting. Jerry Frasier is a former educator who has spent 30 years perfecting his comic energy. His show is fun and highly visual. From close-up miracles to stage illusions, Jerry delivers an excellent entertainment experience.
Drawings For Door Prizes
This is everyone's favorite way to wrap up the evening. Maybe you'll go home with a cool item!
---
Looking for the Internet Plan That's Just Right for You?
Like Goldilocks in the fairy tale — who tried to find the bowl of porridge, chair, and bed that were just right for her — you may be looking for the internet plan with speeds that are just right for your household. You don't want a plan that's too slow, which can cause frustrations such as buffering while streaming. And you don't want one that's too fast, since there's no point in spending more per month than necessary.
To figure out which internet plan will work best for you, start by reviewing these general industry guidelines:
For only basic internet usage, such as checking email and web browsing, a speed of 50 Mbps may be sufficient.
Internet speeds in the 100–200 Mbps range are ideal for most households since they can handle common uses like streaming and video chat for 2-5 users at once.
Households may require internet speeds in the 300 Mbps-1,000 Mbps range if the family is large and/or includes people who regularly work from home or are into competitive online gaming.
Your "Goldilocks" internet plan will be the one that provides everyone in your household with a good online experience while staying within your budget. Ask yourself these questions to help determine your specific needs: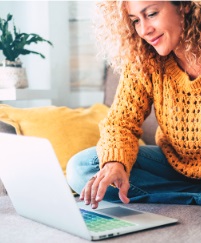 How many devices in your home are typically connected to the internet and in use simultaneously?
How often are family mem-bers watching movies and series on streaming services? Is buffering a problem?
Are there gamers in your household that have issues with reaction time and lags?
Does anyone in your house-hold regularly send large files for work or participate in video conferences?
Do you hear complaints about your current internet plan from family members? Do speeds slow down when you also have guests using your network?
Once you've thought about these factors, call Midstate Communications at 605.778.6221. One of our Customer Service Representatives can help you choose the internet plan that's just right for you. Tell them Goldilocks sent you.
Capital Credit Checks Mailed
By now, you should have received your 2020 Capital Credit Retirement check in the mail (if you received ser-vice from Midstate Communications and do not have an outstanding unpaid balance.) This year's distribu-tion consisted of 100% of 2001, 85% of 2002, and 7% of 2020, totaling approximately $653,391.00. Call us at 605.778.6221 if you have questions.
---
Office Closure
Midstate Communications offices will be closed on Monday, September 6th for Labor Day.
---
Important Dates to Remember
Please mark the following dates regarding our billing schedule on your calendar. Bills are mailed the last business day of each month and payment is due on the 20th of the month. Paying on time saves frustrating calls and unwanted late fees.
Last Business Day of Each Month
–Bills mailed out from Midstate's office
5th of Each Month
– Disconnect of all accounts with a 30 day balance
20th of Each Month
– Bills are due in either Midstate office by 12:00 p.m.
20th of Each Month
– Overdue notices mailed out and late fees will be applied to all delinquent accounts.
All Midstate bills are due upon receipt. Any bills that have not been received by the 5th of the following month will be disconnected. To be reconnected, the bill must be paid in full and will be subject to a down payment and appropriate reconnect fees.
---

Three districts were open for elections this year. Only one district received more than one petition forcing an election to be held with two candidates on the ballot. In District 2 — representing the communities of White Lake, Stickney, New Holland and Delmont — incumbent Lyle McCord defeated Jody Hauge.
District 3 and District 4 elections were cancelled. For District 3 — representing the communities of Chamberlain, Oacoma and Pukwana — the incumbent Lonnie Sharping will be re-appointed. For District 4 — representing the communities of Geddes, Platte, and Academy — incumbents Bob Creasey and Sandy Ringling will also be re-appointed.
All four directors will start serving a three-year term at the Annual Meeting of Members of Midstate Communications on October 7th, 2021.
---
Last Modified: